If you've never logged into the Google Cloud Platform (GCP) console to set up billing, you are eligible for $300 in free GCP credits you can use for working in Terra. Read on for step-by-step instructions for how to access the credits and FAQs about using the credits on the Terra platform.

For more information about Google's free credits and Free Tier, see their documentation here.

Three steps to get $300 GCP credits to use in Terra
The first step is to set up a Google Cloud Billing account using your Terra user ID in the GCP console. Note that you will need to give some additional information to Google, as well as verify your Cloud Billing account with a credit card or bank account. Google will notify you before your credits expire and will not charge your credit card without your direct permission.
This lets you have full control over your billing and is a good option if you are comfortable working in the GCP console. You can use a personal credit card or bank account (and get reimbursed, if your work on Terra is grant-funded) or institutional credit card or other account. If you have been using a third-party reseller, but want to set up your own Google Cloud Billing account, follow the directions below.
1. Set up a Google Cloud Billing account and accept $300 free trial credits
1.1. Go to the GCP console at https://console.cloud.google.com/ (make sure to sign in with your Terra user ID!). If you haven't already set up a Google Cloud Billing account, you'll be greeted with an invitation to activate your free trial in the banner at the top of the page:

1.2. Click the activate button and follow the instructions to sign up for a Cloud Billing account and get your credits. Note that you'll need to verify you're a person with a one-time verification sent to a cell phone, and give a credit card, PayPal account or bank account to verify your identity and reduce fraud.
Note about supplying payment information
Don't worry! You won't be billed until you explicitly turn on automatic billing: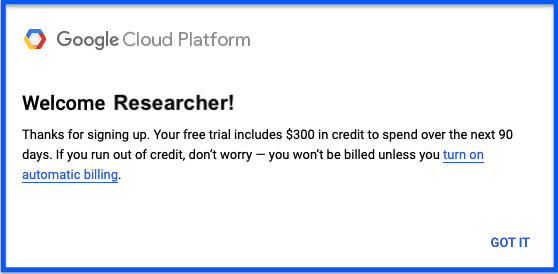 1.3. You can verify the Google Cloud Billing account in the Billing page. You should see My Billing Account in the top left. That's your new Google Cloud Billing account!

Your free credits are in a free-credits Google project, which you can see in the My Projects tab:


2. Link Terra to your Cloud Billing account on GCP console
2.1.Go to the Billing Accounts page at https://console.cloud.google.com/billing and check the box next to My Billing Account.
2.2. Select Add Principal in the right column.
2.3. Add `terra-billing@terra.bio` under New Principal in the form.
2.4. In the dropdown, select the Billing role Billing Account User.
2.5. Don't forget the Save button!
3. Create a Terra Billing project
Once you've accepted your Google credits and linked your Google Cloud Billing account to Terra, you'll be able to create a Terra Billing project. You need a Terra Billing project to create a workspace. These Billing projects are internal to Terra, and act as a passthrough for GCP costs.
3.1. To create a Terra Billing project, go to your Billing page from the main navigation (three horizontal lines at the top left of any page) and click on the + Create button at the top left.


3.2. Name your Billing project
3.3. Select My Billing Account from the dropdown ("My Billing Account" is the default name for your GCP free credits and it should be the only option) and click the Create Billing project button.
Need more than five workspaces? Request a project quota increase!
Because most Terra users will want more than five workspaces, we recommend requesting a project quota increase right away when you set up your Cloud Billing account. Quota increases can take several days to process and must be made by the individual.
Why do you need a quota increase?
Google Project quotas limit the number of Google projects per GCP Billing account (default is five). Since Terra generates a Google project for each workspace, this impacts the number of workspaces you can create under a given Google Cloud Billing account.
You can learn more about project quotas and how to request more here.
Next - Hands-on practice in a showcase workspace template
Once you have a linked GCP Billing project, you're ready to try your own analysis on the Terra platform. As a first step, see if one of these curated showcase workspaces is close to your use case. Each one includes extensive documentation as well as sample data that can be run as-is. To make a template you can practice in, make your own copy under your new Terra Billing project.
To see how to make your own copy of a workspace, see this video.

GCP Free credits FAQs
What can I do with my $300 GCP credits in Terra?
Your GCP credits will cover anything that has a cost in Terra - such as moving and storing data and running interactive or workflow analyses. Use of the credits is not restricted to specific analyses or workspaces. Read about Terra costs and billing structure here.
What GCP limits are there when using a free credits account?
You can use Free Trial credits for all Google Cloud resources, including Google Maps Platform usage, with the following exceptions:
- You can't add GPUs to your VM instances.
- You can only have five workspaces at a time.
If you try to create an additional workspace, you will get this error.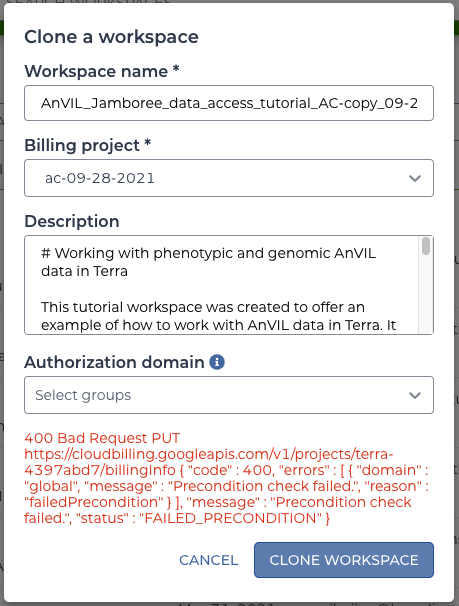 - Free tier users can't request a quota increase. For an overview of Compute Engine quotas, see Resource quotas.
- You can't create VM instances that are based on Windows Server images.
To perform any of the actions in the list above, you must upgrade to a paid Cloud Billing account.
How long will my $300 credits be available?
Your credits will be available once you accept them in the GCP console. Credits will be available for three months, or until you have used up all $300, whichever comes first. You will get a notice from GCP before your credits run out.
How do I track how much I've spent?
1. Log into GCP console at https://console.cloud.google.com/.
2. Go to Billing in the dropdown menu of the main menu navigation (three horizontal bars at the top left)
3. You should see a summary of funds and time remaining on your free credits in the right column.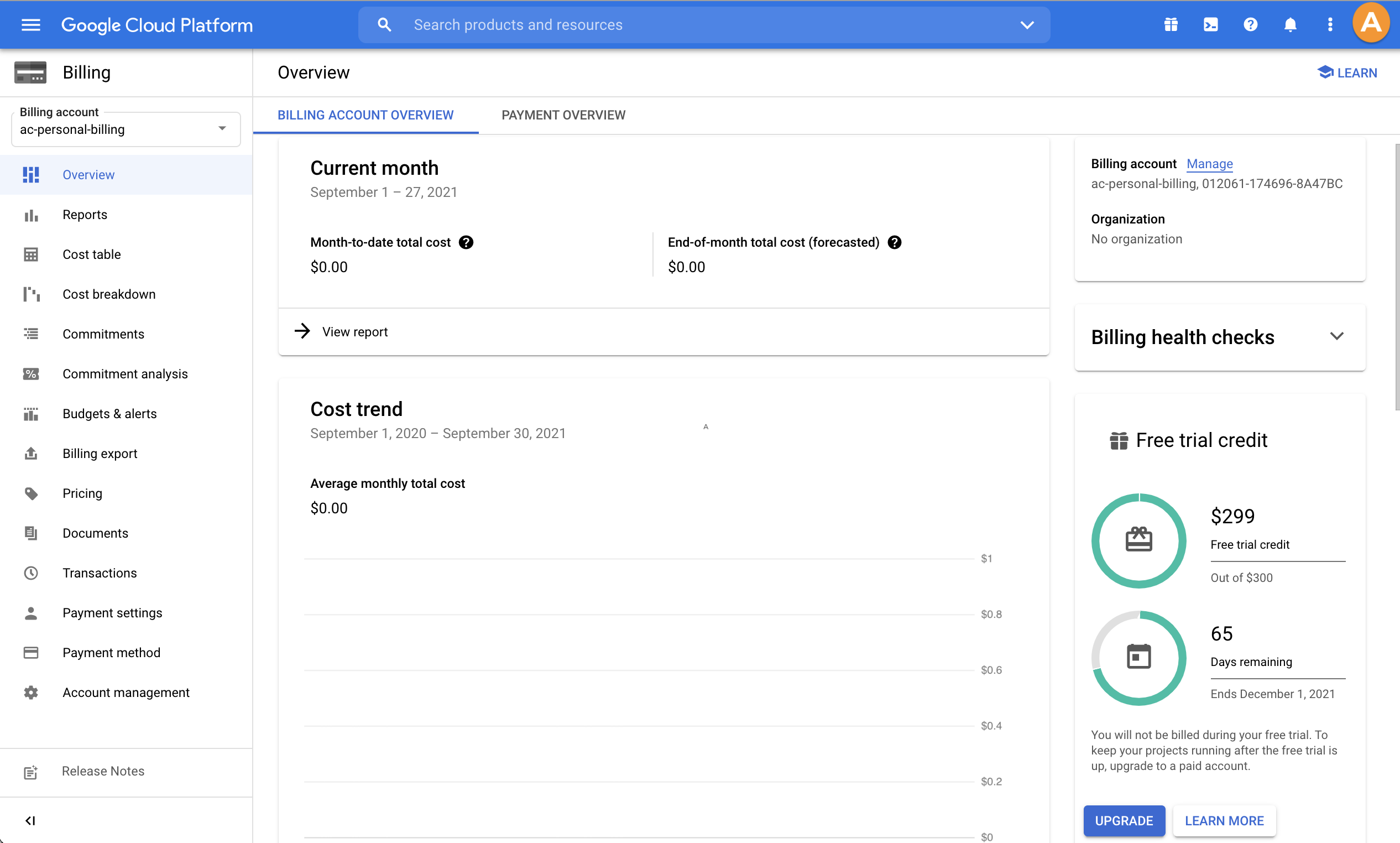 You can also get a number of different detailed GCP billing reports by choosing Reports and selecting your free credits.
What happens once the credits expire?
Once your credits run out or expire, you will be notified by GCP that you have no available credits. You can Upgrade to a paid account, and any additional costs will be charged to the credit card or bank account you gave when signing up.
Your credit card or bank account will not be changed unless you expressly give permission.
To learn about upgrading to a paid account, see this GCP documentation.