Learn how to add study data to your workspace in four steps with a template tsv file. This article also includes templates, screenshots and formatting requirements for organizing and analyzing different types of study data.
To learn more about data tables, entities, and the data model in Terra, see Understanding entity types and the standard genomic data model.

1. Download the template "sample.tsv"
Download a template sample table here.
Sample table template and formatting
What is a sample table?
A sample, or other entity, table, keeps track of data - historically data used as input for a workflow. The minimum sample table includes an ID column and column for a data file (could be FASTQ, BAM, CRAM, etc. - whatever form your data are).
Example: Sample table in spreadsheet
entity:

sample

_id

BAM
your-participant1-blood-ID
gs://your-bucket-name/blood_sample_P1.bam
your-participant1-spit-ID
gs://your-bucket-name/spit_sample_P1.bam
your-participant2-blood-ID
gs://your-bucket-name/blood_sample_P2.bam
your-participant2-spit-ID
gs://your-bucket-name/spit_sample_P2.bam
- Parts in red ("entity:" and "-id") must be entered exactly as shown!
- You'll use your own values for the sample IDs and data file paths
Example: Sample table in Terra
2. Edit in a spreadsheet editor
Open in your favorite spreadsheet editor to edit. Cells can only include alphanumeric characters, "-" and "_" - no spaces are allowed. If you are adding columns of metadata, column headers will be the attribute name of the new column in the updated data table.

3. Save as "tab-delimited text" or "tab-separated values"
Your editor may give you a warning, but we assure you, it's fine! Also, Terra will completely ignore the name you give the file. It's the root entity in the first column header that determines the table name in the workspace.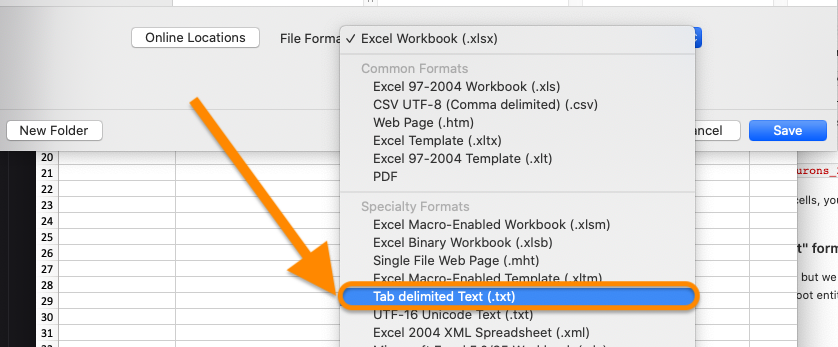 A note about ".tsv" versus ".txt" file extensions Depending on what spreadsheet editor you use, when you save in the proper format your spreadsheet may have either a ".tsv" or a ".txt" extension. Terra will accept either one.
4. Upload to your workspace
Click the blue "+" icon at the top right of the TABLE column in the Data tab of the workspace and follow the directions to drag or select your template file.

Overwriting table rows
When your tsv load file has the same entity (name) as a table already in the workspace, you may get an error message when you try to upload about overwriting data (see screenshot).
Terra will only overwrite data rows with the same ID (in the first column). If the tsv (load) file includes different IDs, the data rows will be added to the existing table.
Templates for additional types (including the standard genomic data model)
Click the table below for more information, formatting requirements, and example screenshots.
Associating data in different tables
It is often the case that associated data will be in different tables. For example, a person's genomic data might be in a sample table and their phenotypic data in a subject table. You will need to be careful about the order you upload the tsv file to make sure Terra keeps the associations.