Step-by-step instructions for exporting the subset of data in a TDR asset for analysis in a Terra workspace.
Export the Snapshot in TDR (in a browser)
1. In TDR, go to your Snapshots tab.
2. Click on the Snapshot to export.
3. This will take take you to the page for the Snapshot, where you can click on the Export to Workspace button (at the bottom).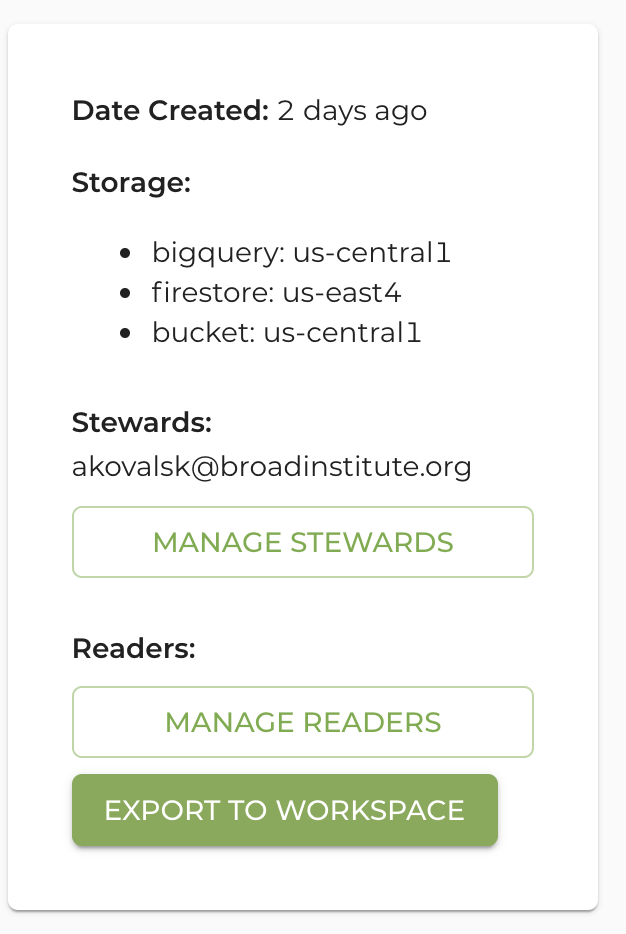 If you're listed as a Steward for the workspace, you'll be able to manage access to the Snapshot from this page as well.
Steward and reader roles
If you are the creator of the Snapshot, you're automatically granted the role of Steward, which allows you to add other users as either Stewards or Readers. A reader will see the Snapshot listed in their Snapshots tab, and also be able to export the Snapshot to their Terra workspaces, but they won't be able to use any of the access management options.
What to expect
Clicking Export to Workspace will take you to the Import Snapshot page, where you can either select a Terra workspace to which you have owner or writer access or create a new workspace for the Snapshot export.
(Advanced option) Export the Snapshot using the API (Swagger)
Though we recommend exporting snapshots in TDR, you can also use this Rawls API exportSnapshot endpoint. For further help with this approach, use the Contact Us form in the main navigation menu.
Remember to authorize Swagger every time you use it. All instructions related to Swagger require you to first authenticate yourself whenever you've opened a window with the Swagger UI.

Instructions
Click "Authorize" near the top of the page, check all of the boxes in the pop up and hit "Authorize" again, and then input the appropriate credentials to authenticate. Make sure you close the subsequent pop up without clicking the "Sign Out" button.

For a more detailed description of this authentication step, see Authenticating in Swagger.