If you're new to Cloud computing, you can get $300 in free credits when you set up a Google Cloud billing account. Read on for answers to some common questions about using the Google credits in Terra.
What can I do with my $300 Google Cloud credits in Terra?
Your Google Cloud credits will cover anything that has a cost in Terra - such as moving and storing data and running interactive or running a workflow analysis. Use of the credits is not restricted to specific analyses or workspaces. Read about Terra costs and billing structure here.
What Google Cloud limits are there when using a free credits account?
You can use Free Trial credits for all Google Cloud resources, including Google Maps Platform usage, with the following exceptions.
Free credits limitations
You can't add GPUs

to your VM instances.
You are limited to four workspaces at a time (this is because free tier is limited to five Google projects - each workspace has its own Google project and there is a non-Terra project created for you when you register for free credits).
If you try to create an additional workspace, you will get this error.

To create more workspaces, delete one that you no longer need.
Free tier users can't request a

quota increase.
For an overview of Compute Engine quotas, see

Resource quotas.
You can't create VM instances that are based on Windows Server

images.
To perform any of the actions in the list above, you must upgrade to a paid Cloud Billing account.
How long will my $300 credits be available?
Your credits will be available once you accept them in the Google Cloud console. Credits will be available for three months, or until you have used up all $300, whichever comes first. You will get a notice from Google Cloud before your credits run out.
How do I track how much I've spent?
1. Log into Google Cloud console at https://console.cloud.google.com/.
2. Go to Billing in the dropdown menu of the main menu navigation (three horizontal bars at the top left)
3. You should see a summary of funds and time remaining on your free credits in the right column.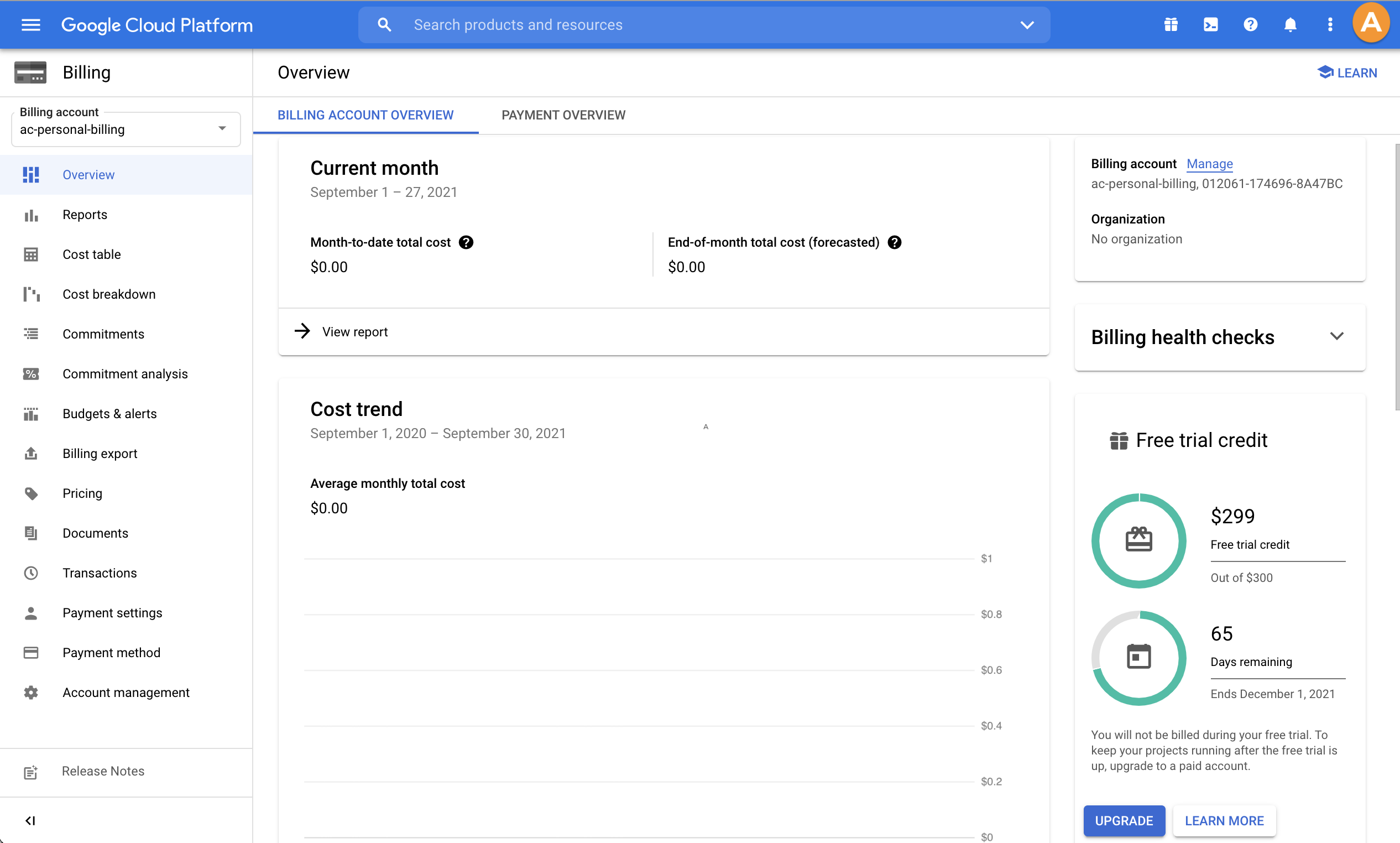 You can also get a number of different detailed GCP billing reports by choosing Reports and selecting your free credits.
What happens once the credits expire?
Once your credits run out or expire, you will be notified by Google that you have no available credits. You can Upgrade to a paid account, and any additional costs will be charged to the credit card or bank account you gave when signing up.
Your credit card or bank account will not be changed unless you expressly give permission.
To learn about upgrading to a paid account, see this Google Cloud documentation.
Although $300 won't cover the cost of a full analysis, it should give you a taste for the possibilities. You can use the credits to try the Data Tables Quickstart,Workflows Quickstart or Notebooks Quickstart. Each tutorial takes less than an hour and costs less than a dollar to complete. After completing these, you'll still have plenty of funds to practice in a cloned Featured Workspace from the Terra Showcase Library. These cover a variety of scientific use-cases and include downsized datasets to run on.