Saving data from an interactive environment to your workspace bucket
Follow
Saving data from an interactive cloud environment (such as an instance of RStudio, or a Jupyter notebook) is a useful trick in some situations. If you're worried about losing work that you've done in an interactive environment because you need to delete or modify your persistent disk, you can just use "gsutil" to copy it to you workspace bucket. Important reminder: Reducing your disk size mid-analysis can lead to loss of data stored on that disk, as described in the article on persistent disks. Below, you can find step-by-step instructions for doing this from either Jupyter or RStudio.
1. Copying from RStudio to workspace bucket
2. Copying from Jupyter to workspace bucket
---
1. Copying from RStudio to workspace bucket
You should save any code you write in your Terra RStudio instance by creating a new file of the appropriate filetype. Only running code in the console is a fine way to test the code, but to be able to export your code or save it to another location, you'll need to explicitly create and save a file containing the code.
1.1. Create a new file by using the File menu and selecting your desired filetype under the New File dropdown. In this example, we create an R script:

1.2. Next, use the Save As option under the File menu to save this script to your cloud environment memory. Any files you save using the RStudio interface will be saved to your directory of choice.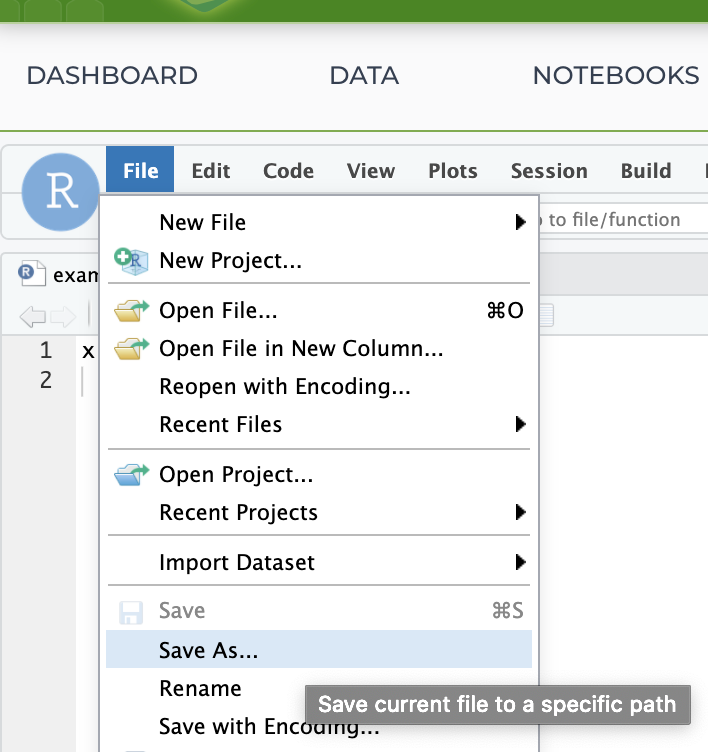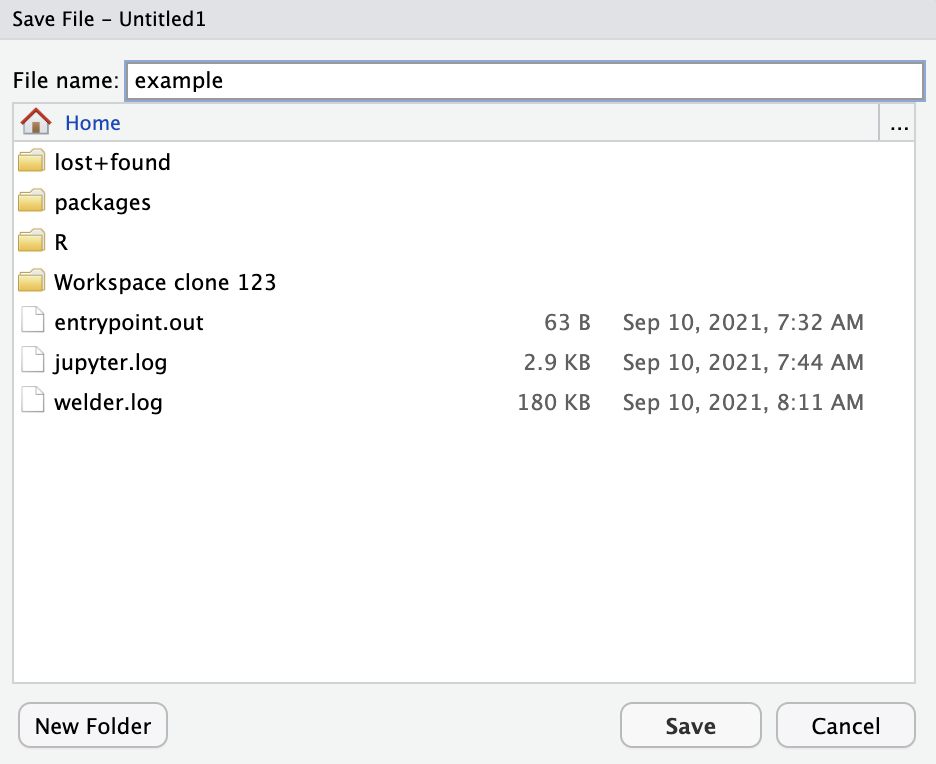 1.3. You'll be able to see your newly saved file either in the file tree in the bottom right section of the RStudio interface, or by clicking on the Terminal tab next to the Console tab in the bottom left section of the screen, and using the ls command to list the contents of the /home/rstudio directory.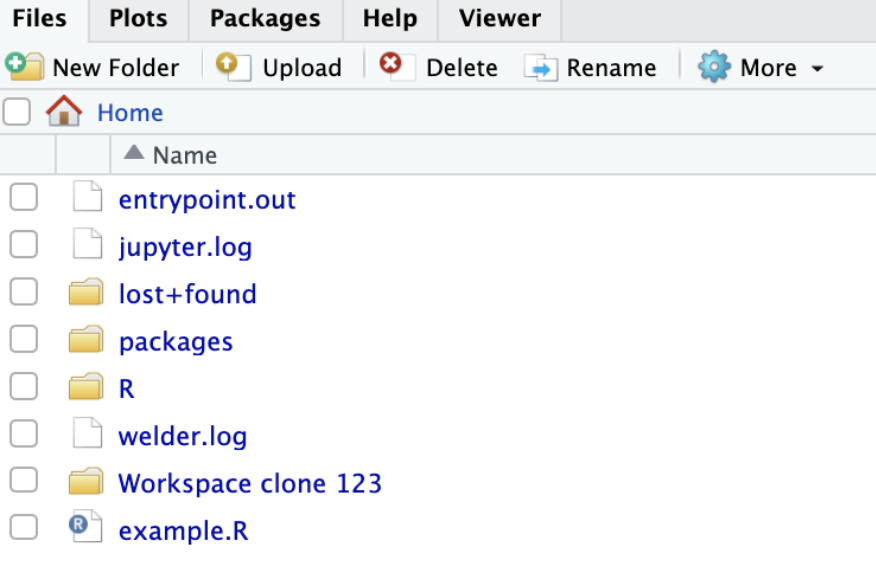 1.4. You can now copy this file from that directory to your workspace bucket by using the gsutil cp command, with the address of your workspace bucket as the destination:
gsutil cp [file name] gs://[workspace bucket address]

You can find your workspace bucket address in the dashboard of the workspace:

1.5. Your file is now securely saved on your workspace bucket, where it will remain until that workspace is deleted. You can find and download it either by navigating to the "Files" listed in your workspace data tab, or while navigating your workspace bucket by opening the Google Cloud console in your browser.
In your data tab: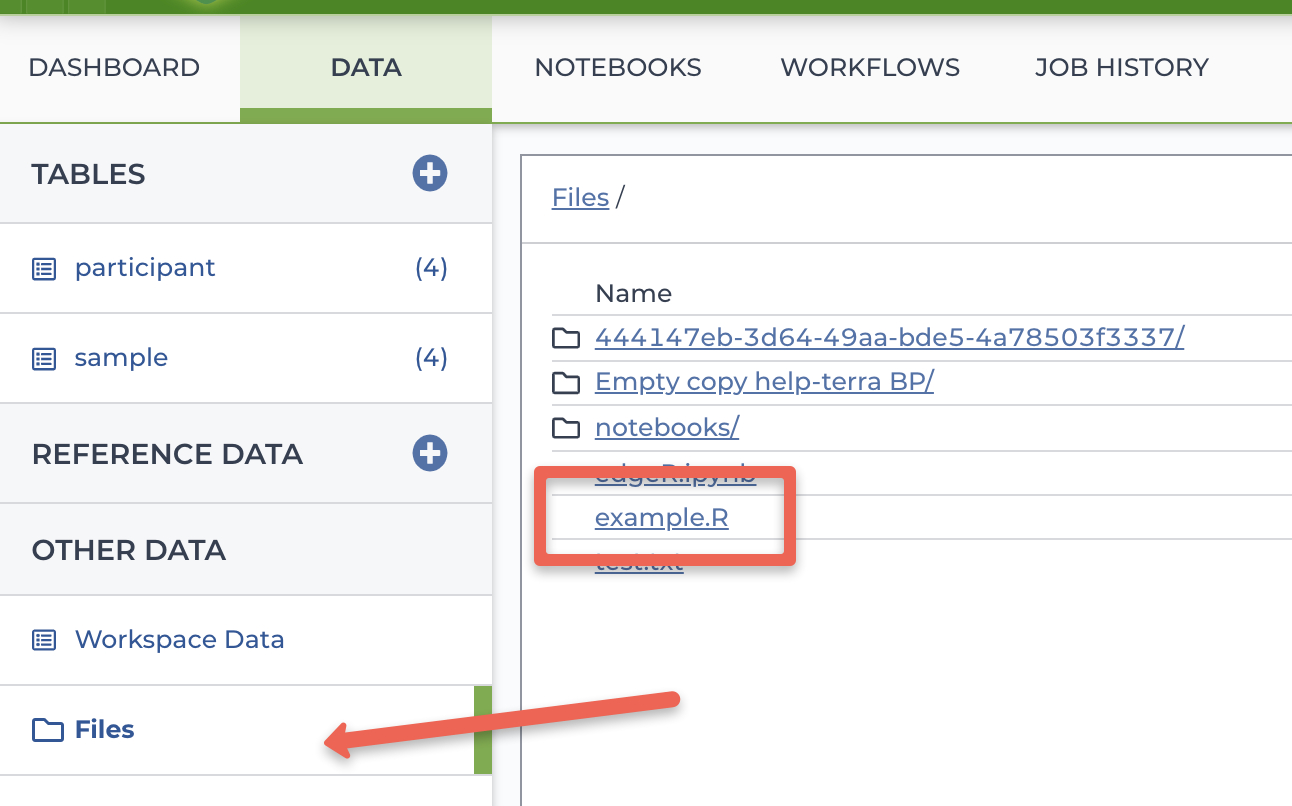 Through the GCR console: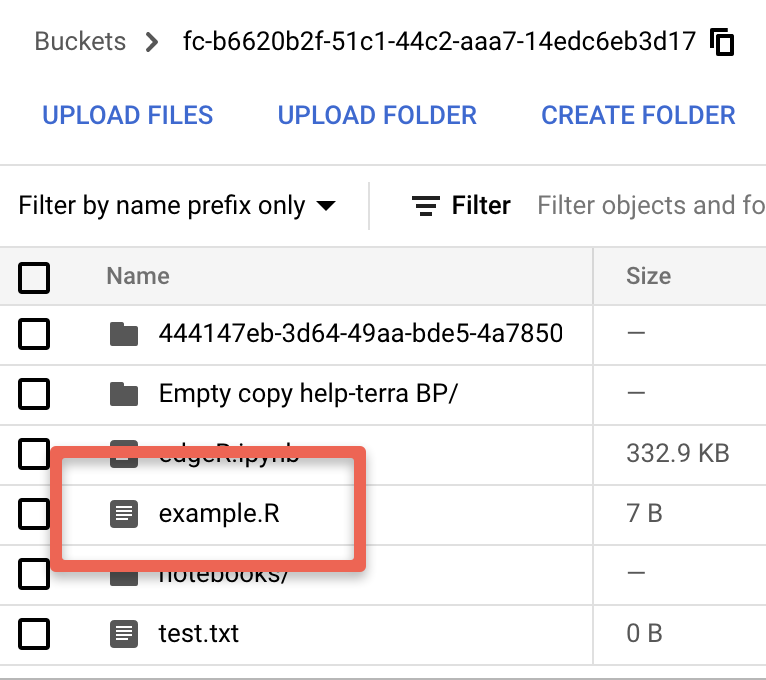 ---
2. Copying from Jupyter to workspace bucket
When you're working a Jupyter notebook on Terra, your notebook is regularly auto-saved to your workspace bucket, so normally you don't need to worry about saving the changes to your notebook. However, it may still be useful for you to understand the file structure of your Cloud Environment and workspace bucket storage, and how to transfer things between the locations. This is especially true if you're generating separate output files, depending on where those output files are generated. Below ae instructions for saving files or folders from your Cloud Environment storage to your workspace bucket.
2.1. Your cloud environment automatically comes with its own storage, which you can access with typical command line tools by clicking on the terminal icon in the Cloud Environment widget button after you've launched a cloud environment:

2.2. This opens a command line terminal directly to your cloud environment virtual machine. When you first open this terminal, you're looking at your /home directory. If you use the "ls" command to list the contents of this directory, you'll see the only folder there is the /home/notebooks folder:

Go into this folder and list its contents, you'll notice that the files do NOT necessarily correspond to the notebooks listed in your notebooks tab or the "notebooks" folder in your workspace bucket files:

[The files listed above are not the same as the note books listed below]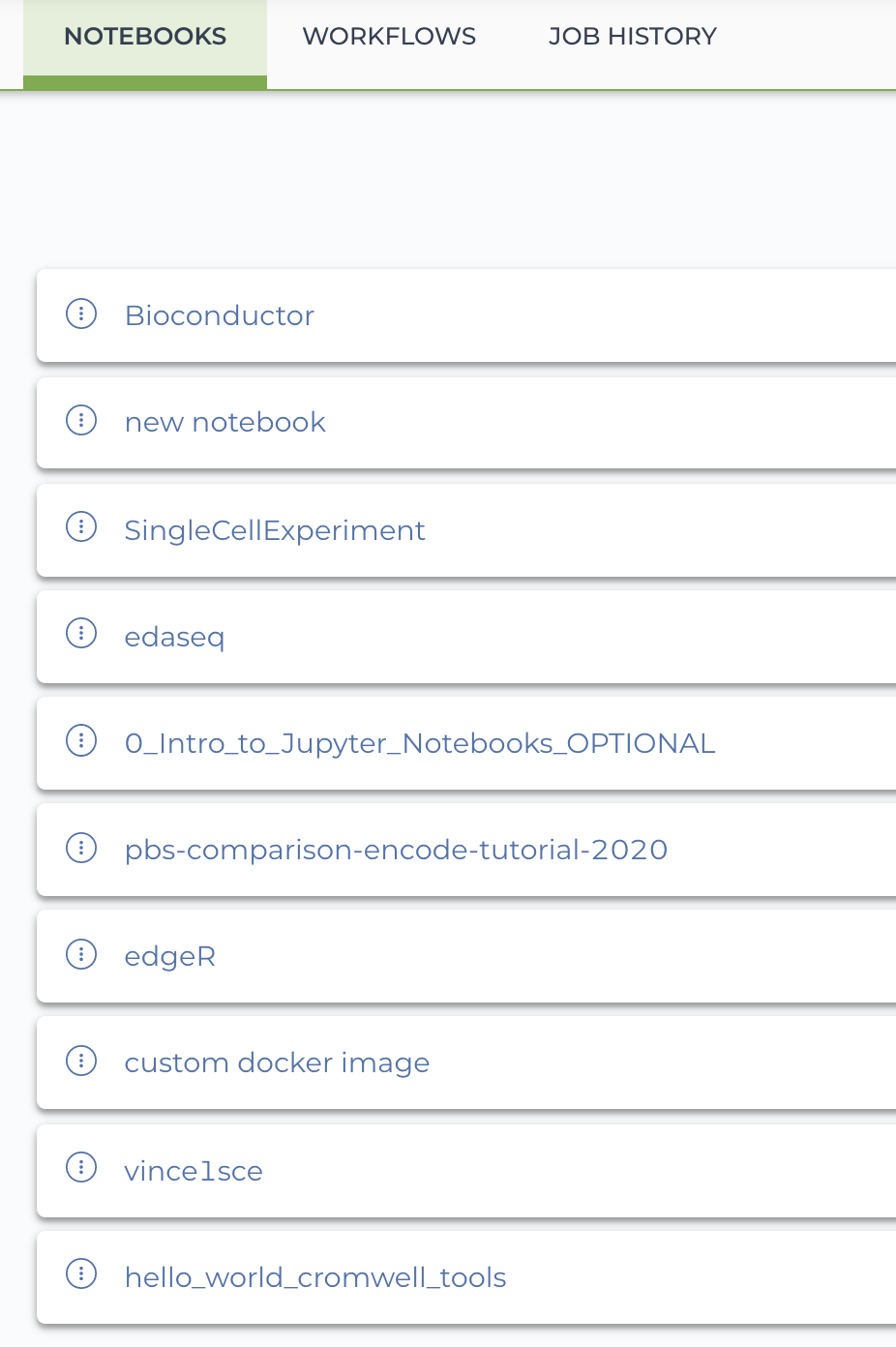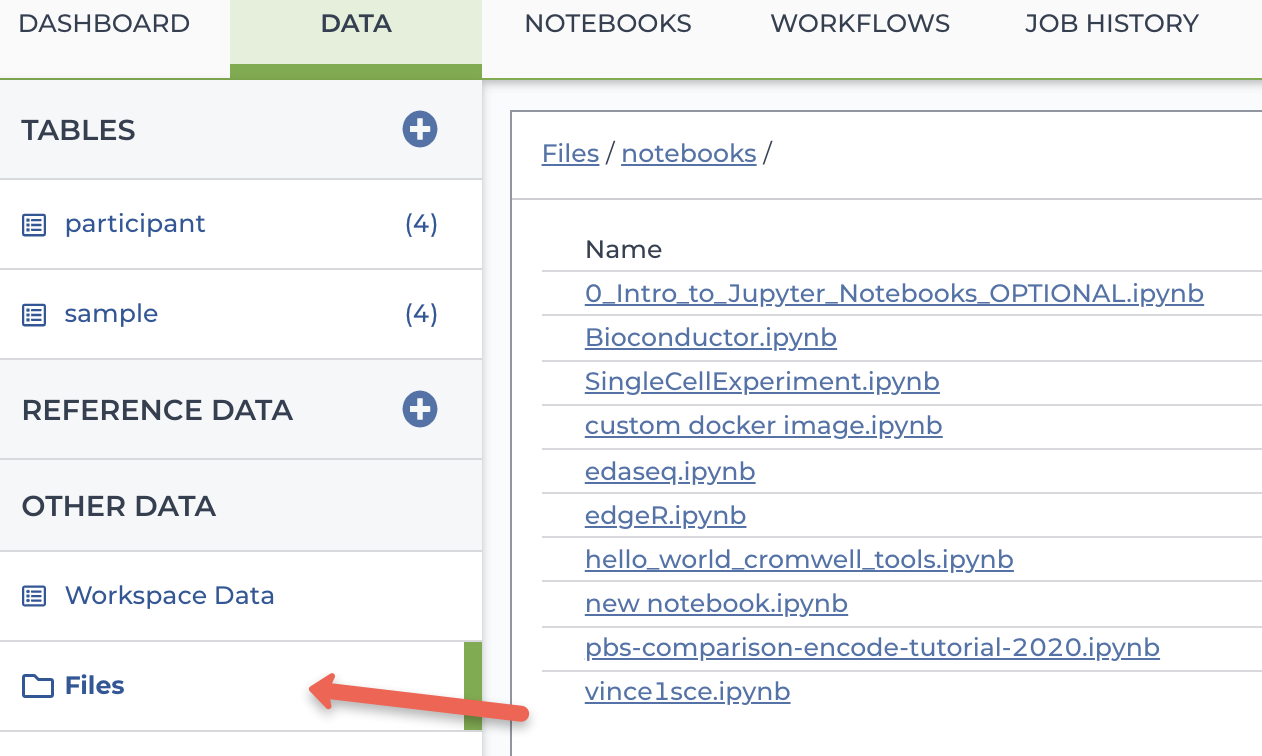 The reason for this is important to understand in this situation: The .ipynb files of the notebooks in your workspace exist before you've launched an interactive cloud environment, and launching the environment does NOT automatically bring the notebooks into your environment. If you haven't opened a notebook in "Edit" mode, your interactive cloud environment does NOT yet see the notebooks.
2.3. When you click to open any notebook in "Edit" mode, Terra will create a new folder in the /home/notebooks directory of your cloud environment, which will be named after your workspace:


2.4. If you list the contents of this new directory, you'll find a folder named /edit. This subdirectory contains copies of all of the .ipynb files in your workspace, and these files include whatever edits you've saved to those notebooks during your current interactive session.

2.5. Use gsutil from here to copy any of these files (or even the entire folder containing all of the files) to your workspace bucket by copying the address of your workspace bucket from your workspace dashboard, and using that as the destination for the copy:

To copy an individual file:
gsutil cp [file name] gs://[workspace bucket address]
To copy an entire folder, remember to add the -r argument to the cp command to copy all contents recursively:
gsutil cp -r [folder name] gs://[workspace bucket address]
2.6. The files you've copied are now safely in your workspace bucket, regardless of what you do with your interactive cloud environment or persistent disk! You can find and download them either by navigating to the "Files" listed in your workspace data tab, or while navigating your workspace bucket by opening the Google Cloud console in your browser:

In your data tab: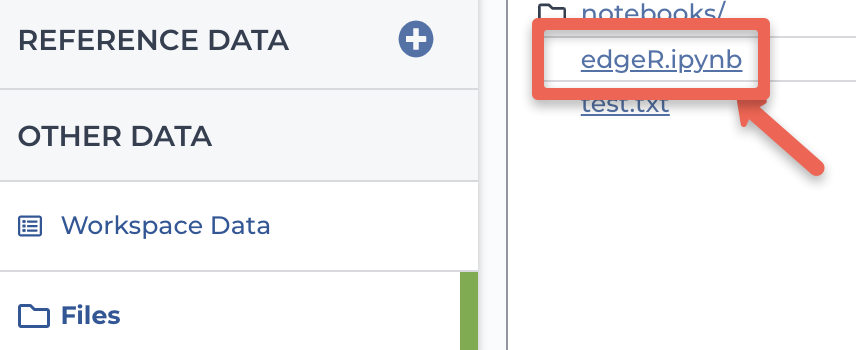 Through the GCR console: