Best Practices for managing shared team costs
Follow
Understanding how to control costs can be especially important (and challenging) for a team working together using a shared funding source. Read on for two ways to share funding resources (shared workspaces and shared Billing projects).

For information on Best Practices for sharing data resources, see this article. For information about sharing GCP Billing accounts (if colleagues need to be able to create their own Terra Billing projects), see this article.


Contents
Overview: How costs are calculated in Terra
Working together in team workspaces
Working in separate workspaces with team billing projects


Overview: How costs are calculated in Terra
Costs in Terra - for storing, moving and analyzing data - are calculated by how much storage, egress and compute is done in the project workspace (bottom level). Workspace costs are covered via the workspace billing project (middle level), funded by a GCP Billing Account (top level):
Consider the case of several collaborators under the same funding source umbrella. The funding will be associated with a GCP Billing Account (top level above). Collaborators can access the shared funds at any level of the billing hierarchy, depending on how they will be working together (in their own workspaces? In a shared workspace?). For a detailed description of the structure of costs and permissions in Terra, see this article.
Below are two options for managing shared team costs, depending on how colleagues will be working together.
Working in shared team workspaces (PIs have most control)
Workspace owners can share a workspace with an individual user or a managed group. You control what your collaborator can do when you share with them. Collaborators will not be able to create their own Billing project or workspaces. To work in a shared workspace, first create the team workspace and make the team a managed group, then share the workspace with the team.
How collaborators can spend money in a shared workspace
Depending on what roles you assign when you share the workspace, collaborators will be able to:
Move, copy and store data

Run an interactive analysis (Jupyter notebook)
Run a workflow (note that this will generate data that will be stored by default in the workspace bucket)
Controlling spending in a shared workspace
When you share a workspace, you decide what each collaborator (or lab member) is able to do in the workspace. For example, "writer - can-compute" permissions, enable colleagues to edit the dashboard, add data, notebooks, and workflows to the workspace, and run analyses.
Warning: All costs will be billed to the billing project associated with the workspace. It can be hard to get detailed cost breakdowns by user. You can change an individual or group's permission at any time, and it takes effect immediately.
How to remove individuals from a shared workspace - Step-by-step
Click on the three vertical dots at the top right to access the workspace "share" form and change the user's role:

Don't forget to save after changing!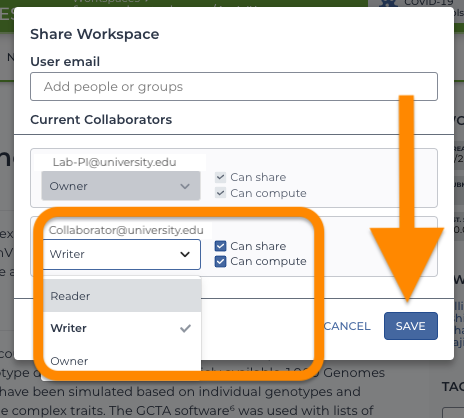 How to remove a user from a workspace shared with a Group - Step-by-step
To do this, you will remove the individual from the managed group the workspace is shared with.
1. Go into ""Your Name" -> "Groups" from the main navigation menu


2. Edit the person's role in the group (you must have the right permissions, of course!)



Working in separate workspaces with team Billing projects
Owners and administrators of the GCP Billing account can create a team billing project or separate billing projects (for different collaborators or projects). One advantage of this is it is easy to monitor and cut off spend by Billing project.
Access to a Billing project allows a collaborator to create their own workspaces - whether from scratch or by cloning another team member's. As the owner, they will be able to store and analyse data in any workspaces they create.
Being on a Billing project does not allow the collaborator to work in any workspaces created by others in the team - even under the shared billing project! That requires the workspace owner to grant the appropriate workspace permission to the user (option 1, above).
How to add/remove a collaborator to/from a Terra Billing project - step-by-step
Billing Account Owners and administrators can create a billing project by navigating to "Billing" from the main navigation menu and clicking on the blue "+" icon to the right of "BILLING PROJECTS":
Select the Billing Account, and name the project:


Once you have created a project, you can add a person to the project in Terra by going to "Billing" from the main navigation menu by clicking on the "+" icon next to "BILLING PROJECTS":



Important! Steps to control spend when using shared Billing projects

Removing someone from a billing project does not keep them from spending money in an existing workspace that has been shared with them! It only removes their ability to create new workspaces.
We repeat - Users can still run workflows and notebooks even after you remove them from the billing project, if the project still exists!!
To avoid the user accruing additional charges, you must eliminate all possible sources of continuing costs (workspaces and projects):
Remove user from shared workspaces owned by other team members (if you still want to be able to work in these workspace)


Delete all workspaces created by the user (if you don't mind losing the data and other resources in the workspace)
- or -
Assign a different owner and remove the user from the workspace (if you want to keep the workspace)


If you are no longer using the shared Billing project, you can disable billing for any projects associated with workspaces the user cloned or created (to prevent additional costs accruing if you no longer want to compute in the workspace (see directions below).

Disabling billing projects - step-by-step instructions

Make sure you are logged into Chrome as the GCP Billing Account admin or owner where you're trying to control spending.


Go to the Google Cloud Console at https://console.cloud.google.com/home:



Go to Billing overview:



Select "Account Management" from the bottom left:



You will see all projects created under this Billing Account. Click on the three vertical dots beside the billing project you want to disable and select "Disable":


Not able to follow these steps?
If you don't see the options in the screenshots, it is likely because you are not the GCP account owner. For example, if you are using STRIDES or third party resellers such as Onix, you may not be able to follow these steps unless you request admin privileges from the third-party reseller (who is the Owner). You will need to ask for admin privileges to disable billing.

Once you disable project billing, no one will be able to start a workflow or notebook in any workspace created with this project effective immediately.
Why isn't it enough to remove users from a billing account or project?
Billing in Terra is tied to the project, which is still linked to the GCP Billing Account after you remove someone from the Billing Project. When you remove users from the billing account or project, they will not be able to create new workspaces, but they will still be able to run workflows or notebooks in workspaces created with a valid billing project.