Learn to use controlled-access data from Gen3 on Terra by linking your Terra user ID to your authorization account (such as a dbGaP account). Linking your authorization lets Terra automatically determine if you can access controlled datasets based on your valid dbGaP applications. Read on for project-specific screenshots and step-by-step directions.
If you need access to data stored in the AnVIL or the Terra Data repository, see How to access controlled data files by linking your NIH authorization. 
Access Gen3 data files by linking your Terra account 
As an example, if you are an NIH BioData Catalyst researcher with a dbGaP account, you can link your Terra user ID to your eRA Commons ID. BioData Catalyst researchers must link Terra accounts in order to access and import Gen3 data files (i.e., CRAMS and VCFs).
Step 1: Log into Gen3
Before following the steps below, log into your Gen3 account. You can use either your NIH login or your Google login. When you link your account to Terra, Terra will know to use the same login.
Step 2: Link authorization in Terra
1. Go to the main navigation menu by selecting the three horizontal lines at the top left of any page in Terra
2. Click on your name to expand and then on Profile.
Terra platform

BioData Catalyst on Terra
3. Click the EXTERNAL IDENTITIES tab.
4. Link to the relevant server by clicking its respective LOG IN button.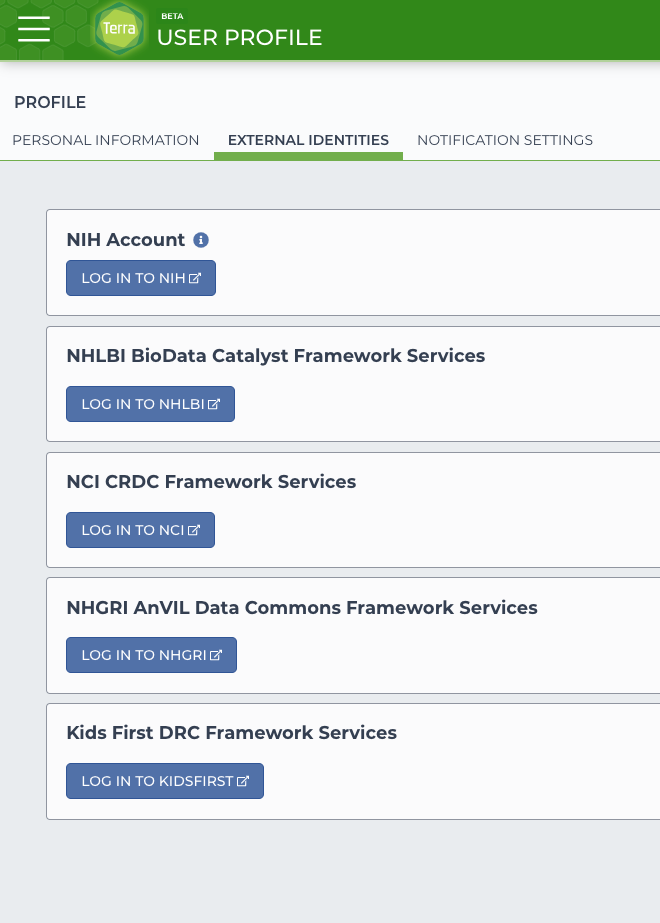 When you select a link, you'll be taken to an external authentication webpage. The authentication will automatically match the way you authenticated on the Gen3 platform (Google versus NIH versus RAS, for example). Follow the instructions to link your accounts.
Google login screenshot

NIH authentication screenshot
5. Once you're linked, you'll see a link expiration deadline for each external service.

Some data requires an NIH Account linkIf you are unable to access the data associated with your external server of choice, try also establishing a link on the NIH Account connection.
Pay attention to the expiration deadlines! If your link expires, any attempt to access/import data/or manipulate files from the Terra platform will result in an error indicating a user is not authorized to access data. For example, if your link expires while you are running a multi-day workflow on imported data, the workflow will fail.

Please ensure all workflows on imported Gen3 data can finish before the expiration deadline. Links expire after 15 days, and you will need to renew your link to access or analyze data. 
Renewing your account link
Select the Renew link and follow the instructions. You can relink your account at any time, which will restart the 15-day link expiration time.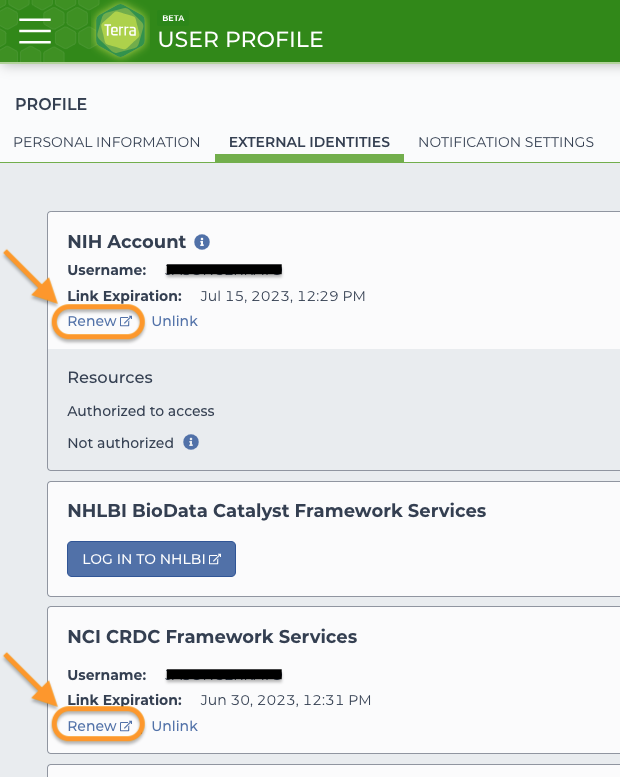 Unlinking your account
If you don't renew your authorization links, you will get a notification that they have expired and you need to relink them. You can also do this proactively by clicking Unlink at the end of your session.