Using the Bioconductor Docker image in Terra
Follow
The Bioconductor Docker image is one of the current base images integrated into Terra. This guide will introduce you to the Terra Bioconductor image and how to use it with a Jupyter Notebook.
Contents
Introduction to Bioconductor and Terra Image
Bioconductor is a suite of open source tools, primarily written as R packages, designed for the statistical analysis of high-throughput genomic data. The terra-jupyter-bioconductor image is an extension of the terra-jupyter-r image that contains preloaded Bioconductor packages. You can find a list of all packages and software dependencies in the terra-docker GitHub repository (https://github.com/DataBiosphere/terra-docker/tree/master/terra-jupyter-bioconductor).
The terra-jupyter-bioconductor image comes preloaded with 10 commonly used Bioconductor packages:
Accessing the Terra Bioconductor Image
To use Bioconductor in a Jupyter Notebook, you first need to set your Terra workspace cloud environment to the Bioconductor Docker image. If you are interested in looking inside the Docker file (or building your own custom Docker file), you can read more details in this GitHub repository.
To install the Bioconductor environment, simply click on the Cloud Environment widget in the top right of your workspace screen, select the Bioconductor image from the cloud environment drop-down menu, and click "create" (or "replace").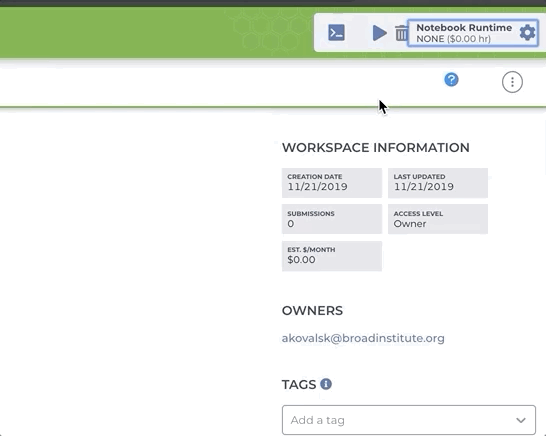 After setting your cloud environment, launch your R Jupyter Notebook or create a new one using the instructions in this article. Once you've launched the notebook (when you can enter Edit Mode), you can run a quick sanity check by accessing the R help page of a Bioconductor function using the "?" syntax as shown below.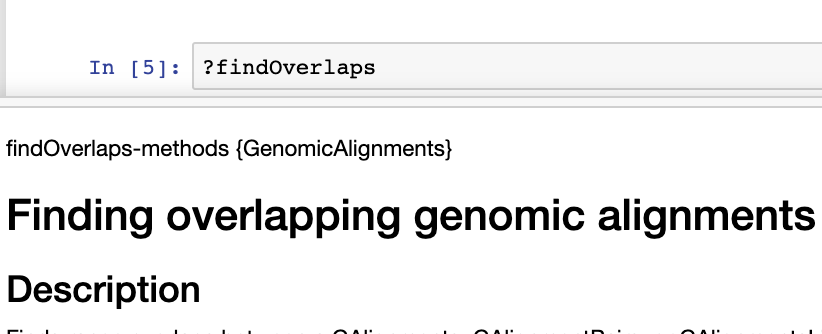 Or you could try loading a package you now expect to be available, such as 'GenomicAlignments'.

Uploading Additional Bioconductor Packages
If your research requires additional Bioconductor packages, you can readily install them in your R Jupyter notebook using Bioconductor's BiocManager package which comes pre-installed with the Terra Bioconductor image. Use the command 'BiocManager::install()'.
Example: Installing the 'edgeR' Bioconductor package
From the Terra Notebooks tab, navigate to your Juptyer Notebook or create a new Notebook with the language set to R


In a cell block of the Juptyer Notebook, type 'BiocManager::install('edgeR')





To check that your Notebook appropriately installed the package, you can type

library("edgeR")

into the code block. If no error message appears, the Notebook has successfully installed the package.

---
Additional Docker Resources
You can read more about Dockers and customizing Docker images with the following articles:
Creating safe and secure images: https://support.terra.bio/hc/en-us/articles/360034669811
Custom cloud environments for Jupyter Notebooks: https://support.terra.bio/hc/en-us/articles/360037143432
Working with project-specific environments: https://support.terra.bio/hc/en-us/articles/360037269472
---