One of the best ways to get started in Terra is to explore Featured Workspaces, curated templates that span a variety of use cases. Standardized for completeness and ease of use, they're great as templates or to help reproduce instructive results and learn established methodologies.
Featured workspaces: Overview
What's in a Featured Workspace?
Featured workspaces include downsampled data and analysis tools for a wide variety of analysis methodologies, experimental strategies, scientific domains, and datasets. You should find enough detail in the workspace dashboard to enable you to reproduce an analysis with the included sample data. Cost and time estimates give you the confidence to use them as templates for analyzing your own data.
Where to find them
You'll find these resources in the Library > Featured Workspaces section under the main navigation menu at the top left of any screen in Terra. 
Finding the right template workspace
Featured workspaces can be searched and sorted from the bar at the top. The search works on workspace tags (set up by the owners) as well as wording from the top paragraphs in the dashboard description.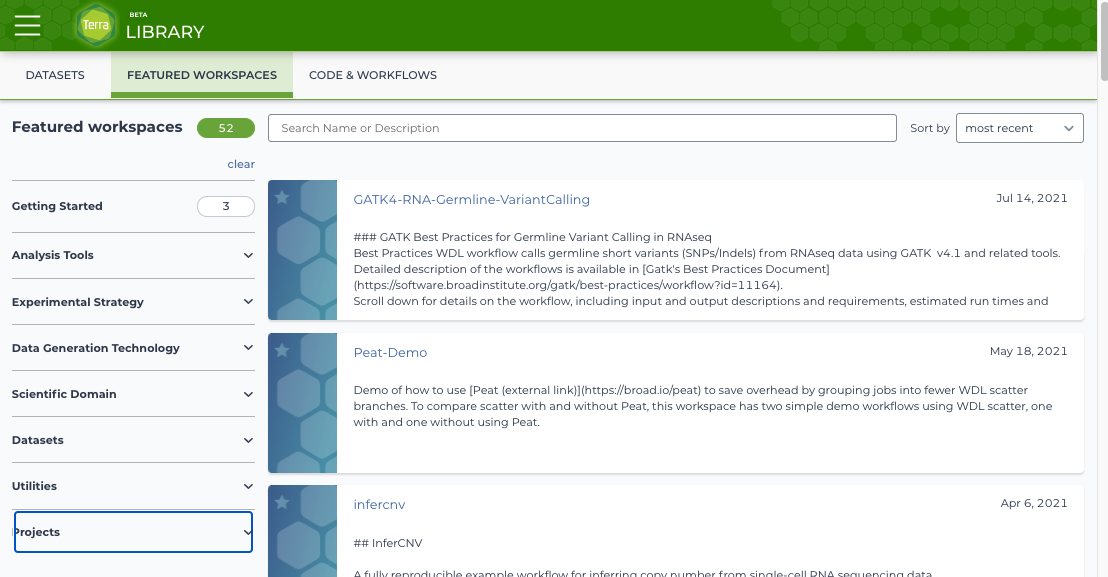 In addition, featured workspaces are organized by category (in the left column).
Featured workspace categories
Getting Started
QuickStart workspaces include hands-on exercises to get you started using data tables or running a notebook or workflow analysis. They are wrapped as complete packages with sample data and information on cost.
Analysis Tools
Find workspaces  that showcase WDLs, Jupyter Notebooks, Hail, Bioconductor, GATK, and Spark tools. Note: This is where you will find working examples of best practices GATK workflows, along with sample data and time and cost estimates.
Experimental Strategy
GWAS, Exome Analysis, Whole Genome Analysis, Fusion Transcript Detection, RNA Analysis, Machine Learning, Variant Discovery, Epigenomics, DNA Methylation, Copy Number Variation, Structural Variation, and Functional Annotation. 
Data Generation Technology
10x analysis
Scientific Domain
Cancer, Infectious Diseases, Single-cell, and Immunology.
Datasets
These workspaces highlight specific datasets and include examples of how to access and process data. Datasets include public-access data with a broad range of audiences and use cases and restricted-access data for specific research groups.
AnVIL, HCA, TARGET, ENCODE, BioData Catalyst, TCGA, 1000 Genomes, BRAIN Initiative, gnomAD, NCI, and COVID-19. 
Utilities
Find format conversion and developer tools workspaces here. 
Projects
Terra-supported scientific partnerships include HCA, AnVIL, BRAIN Initiative, BioData Catalyst, and NCI (i.e., FireCloud). These workspaces are tailored to the needs of users in these groups, and include analysis and data manipulation tools. specific to those projects.