Data custodians interested in sharing their data can use the Data Use Oversight System (DUOS) to facilitate access to research data stored in the Terra Data Repository or a Terra Workspace. This article gives an overview of the benefits of using DUOS for data access and outlines how data custodians can take advantage of the integration of DUOS and TDR.
Overview: DUOS and TDR
Designed to protect sensitive human research data, traditional methods of controlled-access data sharing are highly inefficient - manual and time-consuming - and delay or prohibit scientific advancements.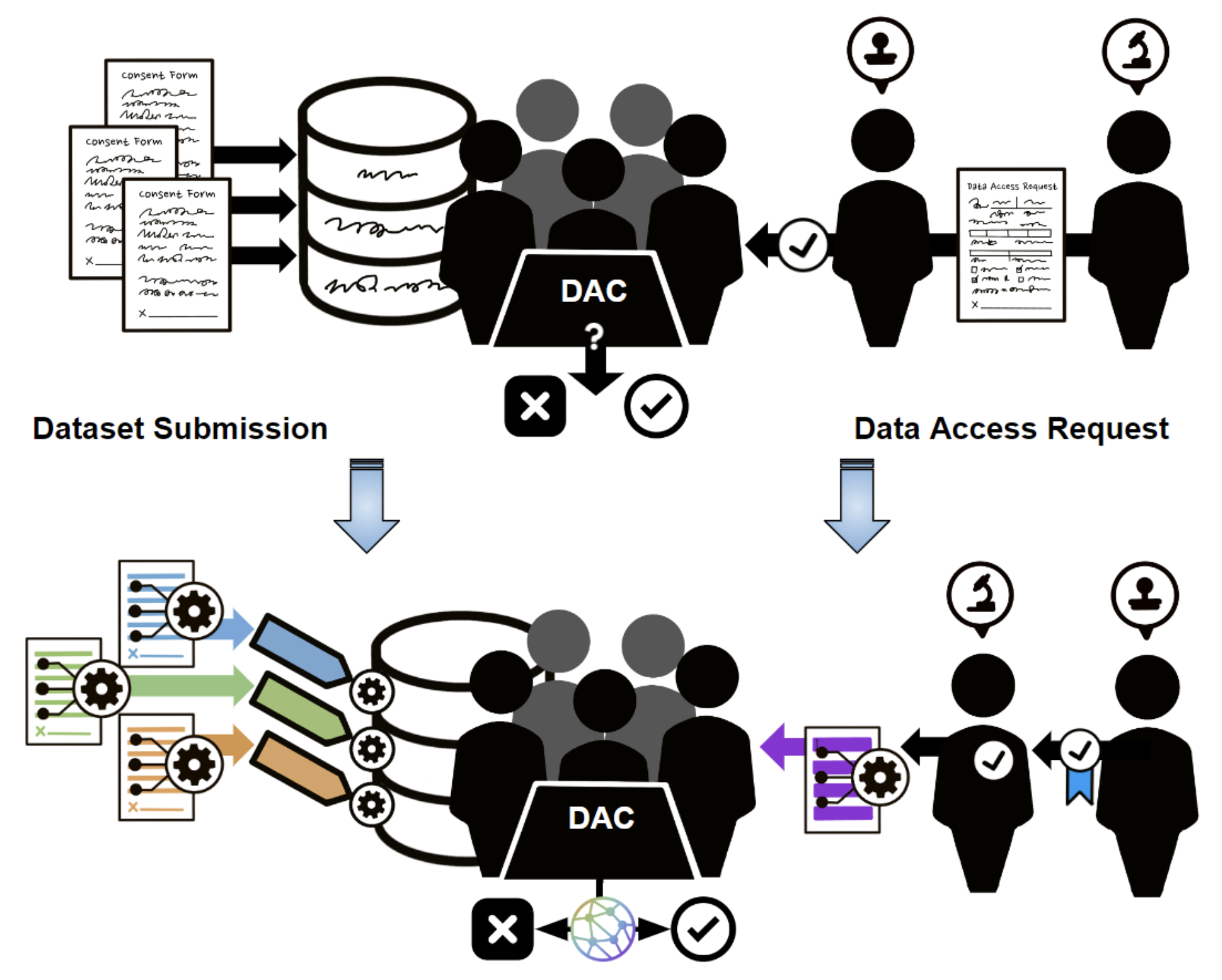 Current process pain points
Data Access Committees' (DACs) complex task of comparing consented data use permissions with proposed research delays grating access requests
Unique and ambiguous data use agreements and negotiations also make granting access inefficient and time-consuming
Exponentially increasing numbers of data access requests are overwhelming DAC's ability to process them
Data is often under-shared (i.e., researchers with a legitimate use case are denied or indefinitely delayed access)
Data custodians must add approved individuals manually to allow access
With DUOS, researchers can submit a single request for multiple datasets, and the process of review by the data access committee and response to the researchers is significantly simpler and faster.
Benefits of DUOS
Can reduce the time to process DAC data requests from weeks or months to minutes
Once approved by the DAC, access is automatic and instantaneous
No need for data custodians to manually add/subtract users
People who shouldn't have access get removed automatically
How to use DUOS for access to your dataset in TDR
DUOS is already integrated with TDR. To take advantage of DUOS, data custodians should request access in DUOS.
Step-by-step instructions for DUOS access
You may have your institution sign-up to use DUOS and create its own DAC(s). If you are unable to do so, DUOS can provide a DAC to manage requests for your dataset(s) for a one-time fee. Contact support@duos.org for assistance.


Once you know what DAC will manage your dataset(s), you must request Data Submitter permissions from your own institution's Signing Official.


Once you receive these permissions, you can complete the

Study Registration in DUOS

. This allows you to provide information about your completed study and the resulting dataset(s).


Upon submission, your dataset(s) will be sent to the DAC you indicate for their review and acceptance.


Once accepted, your dataset(s) will appear in the DUOS dataset catalog with their corresponding DUOS-IDs (ex. DUOS-000034, DUOS-000002).


With your DUOS IDs in hand, you can add each DUOS ID to the corresponding Terra Data Repository Snapshot. Users approved by the DAC in DUOS will be automatically added upon approval - and removed if/when their access request is closed. Note that a TDR Snapshot may be linked to at most one DUOS Dataset (but one DUOS Dataset can be linked to many TDR Snapshots).


The DUOS ID MUST BE added to the TDR snapshot before proceedingNote that attempting to use a DUOS ID on a Terra Workspace prior to adding it to a TDR Snapshot will cause permissions issues and should be avoided.

After adding the DUOS ID to your TDR Snapshot, an approved-user email group named after your DUOS ID will be added to the Snapshot. You are also able to manage Terra Workspaces by adding this approved-user email group constructed by TDR.
Make sure to add user groups to the correct Terra workspace with the correct permissionsUsers are responsible for making sure these users groups are added to the correct Terra workspace with the correct level of permissions. Oftentimes this means adding the email groups to these resources with READER permissions (see Managing access to shared data and tools with groups) such that they are unable to edit data or share inappropriately, and making sure that the storage location has the Requestor Pays option turned on to prevent you and your team from incurring egress charges from secondary users.