Summary
We are actively investigating reports of the cost discrepancy between the VM cost estimate shown in the cloud environment configuration panel, and the running rate displayed on the sidebar in the workspace UI.
For example, a Default Jupyter environment configuration shows a Running cloud compute cost of $0.06/hr.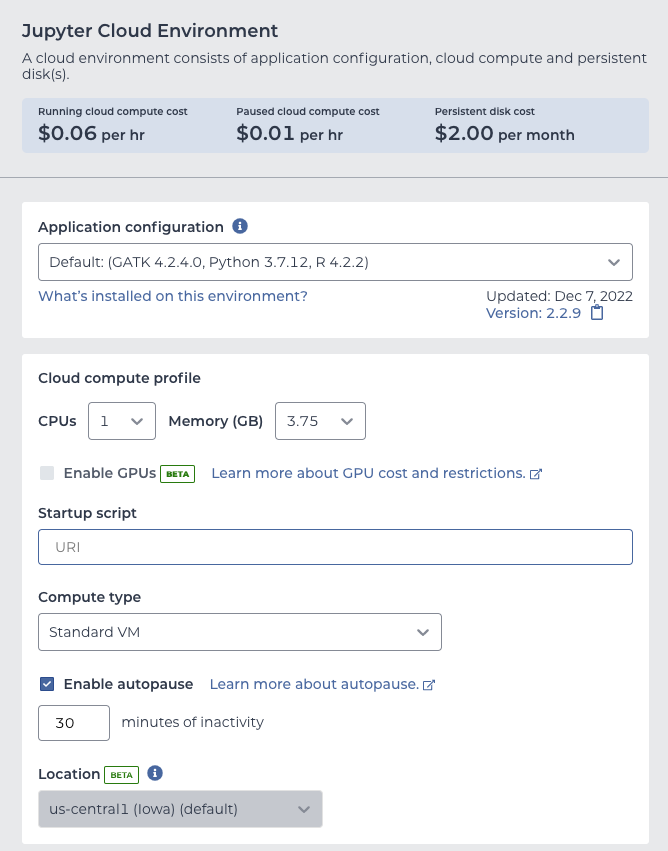 but the Rate displayed in the side panel when running is $0.78/hr.

Timeline
December 19, 2022, 6:35 PM ET - Issue remediation - Our engineers have deployed a fix and have confirmed that cloud environment cost reporting is consistent once again.
December 19, 2022, 4:30 PM ET - Fix in-progress - Our engineers have identified a fix for the issue. They will be testing the fix to ensure it works before deploying.
December 19, 2022, 11:15 AM ET - Issue investigation - Two more reports of similar behavior came in on the morning of December 16, and a member of the Terra Support team was able to validate this behavior in the UI. Terra engineers began investigating.
December 16, 2022, 11:11 AM ET - Issue reported - A Terra user wrote to support about the large price discrepancy they were seeing when comparing their cloud environment configuration reported price and the price shown in the running cloud environment. Terra Support requested additional details.
Impact
Users may see discrepancies in the cost for their cloud environment VMs until the issue is resolved.
For more information
Please follow this article to get the most up-to-date information on this incident. If you would like to be notified of all service incidents or upcoming scheduled maintenance, click Follow on this page.